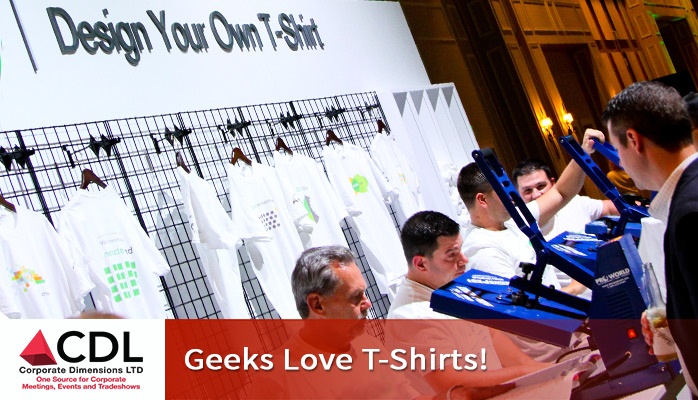 Geeks love T-Shirts. That's right T-Shirts. Over the past decade in producing corporate events we have found that geeks will do anything for a T-Shirt.
Think about it…big tech company or small tech company. Developers, engineers, scientists love video games, caffeine, toys, computers, bean bag chairs, geek stuff and …T-shirts. All are a part of that culture. Let's face it, they have earned the right to wear their T-Shirt to the board room, the game room or any room for that matter. So, at your next tech event, forget the branded totchkees --skip the phone charger, the branded USB and coffee mug and host a Make Your Own T-Shirt Bar.
You can create designs aligned with your company's mission or marketing message. These designs can be turned into exclusive t-shirt graphics curated just for the event. Event attendees line up at an exclusive T-Shirt Bar to choose from the designs and then collaborate with staffers to decide where the designs will go on the shirt. The on-site team manages the rest of the screening and heating process and the event attendee walks away with a hot off-the-press personalized t-shirt. The whole interaction takes about five minutes.
And people will proudly wear the brand of their "tribe." Long before they become evangelists of your brand, they will gladly showcase it if you let them.