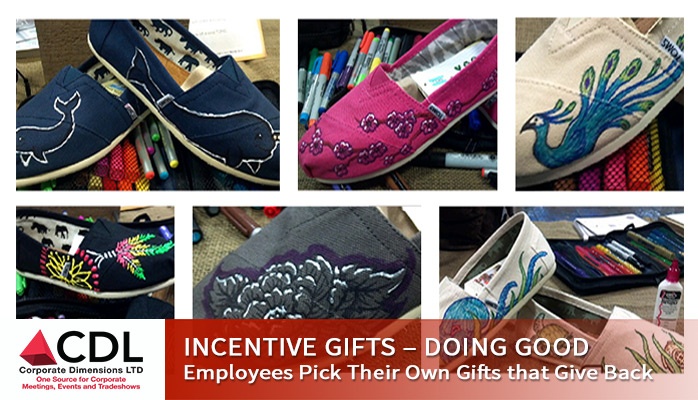 Wondering what gift to give your employees at the next company incentive trip? Why not let your employees pick their own gift and feel good about giving back.
At your next incentive trip create a custom Toms boutique, featuring Toms shoes. Each attendee gets a pair of Toms and for each pair of shoes gifted an additional item is gifted to someone in need. Add local artists and attendees can walk away with hand-painted, completely custom shoes just for them.
You can even add Toms Sunglasses as another great option, especially if your incentive is in a tropical destination. Attendees can choose from a variety of Toms Sunglasses and just like the shoes….for every pair of sunglasses Toms sells, they provide laser eye surgery to someone in need.
Want to customize this even more? We can even outfit your employees by adding a Denim Bar complete with more than 40 lines for both men and women, and personal "jean-tenders" who cater to every body type, outfitting attendees with their favorite brand, wash, size and style.
Add a monogrammed bag and you not only have provided your most valuable employees with a customized experience, but, you have given them the opportunity to do good.
Let us show you how to build this custom experience at your next event!