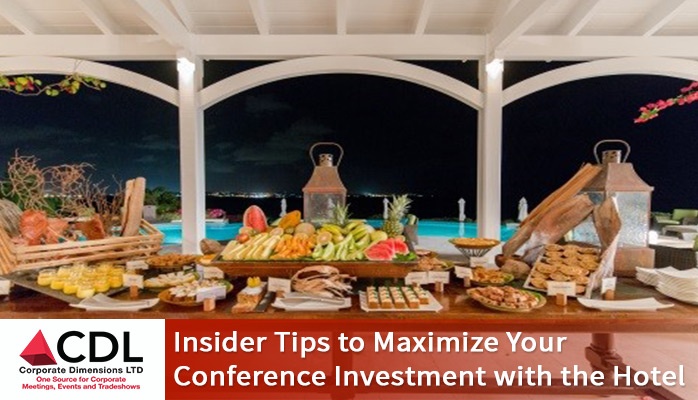 Here are 5 ways you can maximize your conference investment with the hotel:
Ask the Hotel what meeting or event takes place immediately before your event. Ask to use the same menu as the other event. This can potentially help you lower your food and beverage costs because the hotel will not have to prepare multiple menus.
Always check social media reviews prior to booking your next conference venue. Venues with less than favorable social media reviews may be anxious to book your business and could be willing to negotiate. Read the reviews to see specifically what issues people experienced at the venue and make sure you address these items on your site visit. Have the venue address these concerns and correct any issues prior to the event. You can even ask to put this all into the contract.New venues are sometimes hungrier than established ones and often are willing to negotiate and provide discounts. But, do your due diligence to ensure that they are ready for your event and that you have a cancellation clause that protects both you and the venue.


Sign the contract at the end of the month or quarter. Hotel sales people are often working to meet sales quotas and often those quotas end at the end of the month or quarter. You can even ask what price or concession opportunities there may be if you sign the contract before the end of the month.


Ask how flexible the hotel's service charges are. You can't really negotiate the sales taxes or tourism taxes, but you can negotiate a venue's service charges. The higher your total spend, the more you can negotiate the service charges.


Negotiate your parking and transportation. If many of your attendees are driving to the event, ask the venue to provide free or discounted parking for your attendees. If they are flying into town, try to leverage the hotel's transportation at a discounted cost.