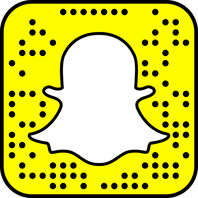 Snapchat is all the rage in the social media world these days. But how can you use it effectively in the event planning industry? Is there a way to harness the power of "telling a story" to promote an event and create buzz among attendess? Absolutely.
In BizBash.com's article by Ian Zelaya, 4 Ways Event Planners Can Use Snapchat Successfully, they discuss the various ways to effectively utilize Snapchat before, during, and after an event! For example:
Create an effective social story
"Jeff Petriello, director of creative development at Mashable Studios, notes that the success of marketing or covering an event on Snapchat depends on how well the story is told...."
Advertise your Snapchat channel.
"While Snapchat helps brands spread the word about their events and coverage, the companies need to remember to spread the word about their Snapchat accounts themselves. Brands can advertise their official Snapchat handle, known as a Snapcode, on event decor and merchandise..."
Customize filter designs.
"One of Snapchat's most notable upgrades specifically targeting event planners was the introduction of custom filters. The in-app graphics that highlight a particular city or neighborhood used to be submitted by users, but now brands can design and customize their own geofilters for an event..."
Cash in on festival fever. "

In June, music festival producer AEG Live entered a multiyear agreement with Snapchat to cover its festivals...through the app's Live Stories. The partnership allows select brands to reach audiences through vertical video ads, which pop up between user-generated video stories during the festivals...."
Read More HERE