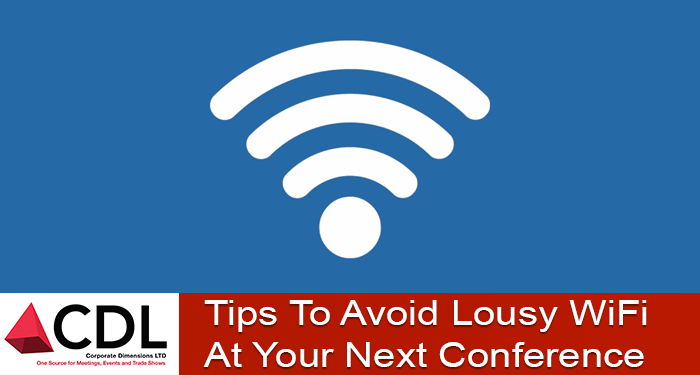 We have all experienced it…lousy WiFi at a conference. The venue's poor WiFi connection completely overshadows the main event and becomes the talking point of the entire conference.
So what does it takes to create a flawless Wi-Fi experience for your next conference?
WiFi is often overlooked when it comes to setting up and planning events. Events that may rely heavily on wireless network access for their attendees, presenters and exhibitors often aren't budgeted, planned or composed properly.
According to Successful Meetings, 55% of event managers state their biggest 2017 challenge is getting enough Wi-Fi bandwidth for attendees.
Here are some important Wi-Fi Tips for your next event:
Tip #1: Know Your Event History and Ask Questions.
Every event has its own unique internet needs, whether it's dedicated bandwidth, branded portals, push advertising or social media over WiFi. The IT provider at the conference venue has a detailed report of the bandwidth use from your event. This is important data that provides the information on bandwidth usage, upload and download speeds and more. Make sure to get this report. The more historical information you have, the better a hotel or vendor can service your needs at your next conference.
If this is a first time conference, ask these important questions:
What is the Ratio of access points to expected devices?
What are the locations of the access points?
Can you count on qualified technical support throughout the entire event?
Is there a dedicated amount of bandwidth, and what are the Internet upload/download speeds?
Tip #2: Think Devices, Not Users.
The average user carries (3) WiFi enabled devices each and will probably try to connect all of them. Three might seem like a lot but when you think in terms of phones, tablets, laptops, mp3 players and more, (3) might be underestimated. Besides, what's a tablet without internet? A really expensive notepad.
In addition to supplying enough Wi-Fi bandwidth for these attendees, you will still need to account for your speakers, presenters, core teams, exhibitors, etc. Are you running internet reliant demos? Are people simply checking their emails? Or maybe you are doing web-based training. It is important to determine your event critical components that require Wi-Fi before you can calculate how much bandwidth you actually need.
Tip #3: Free doesn't always mean Free.
Many planners expect WiFi to be a utility provided by the venue just like water, clean air, or power. They want it everywhere, and they want it free. That approach may work for a smaller or a less technical event. If you are just looking for a hotspot in the café, you can get away with it, and a property can give it to you as a service. The problem is when you have 1,000, 10,000, or 100,000 people, and you have a massive expo hall and breakouts and foyers and a meal hall. You start talking about a level of infrastructure that can no longer be free because of the cost to set up that infrastructure and the salaries of the I.T. staff to maintain it and monitor it. It's not cheap. Make sure you understand the costs and budget accordingly for WiFi.
Conference goers expect a good WiFi connection. A bad one, gets noticed. You don't want a poor signal to become the focus of your next conference or want it to be a trending topic on your social networks. Planning the right wireless strategy is important. At Corporate Dimensions we understand the complexity and value of guaranteeing a seamless and fully managed connected event experience.